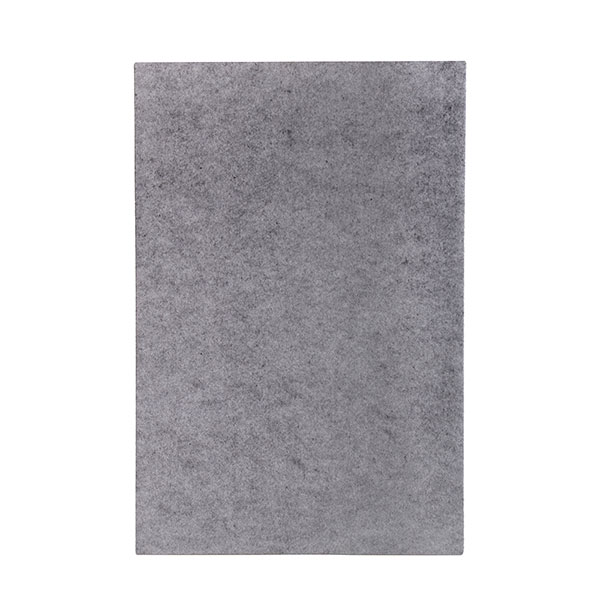 Flat bass Trap Panel
Flat bass trap panel – Deconik bass trap acoustic panel
Deconik bass trap acoustic panel can be introduced as the best solution to improve and optimize low frequencies and is a great complement to other acoustic products.often the place of accumulation of extra basses is the corners of the room. Therefore, it can be called as an absorbent. It is always recommended to use this type of acoustic panel in the corners of the desired space.
Description
The problems that result from the bass frequency are one of the most important acoustic issues that must be solved in any room or place. 
Although bass traps have been mostly used for special designs or custom panels, today, even though solving these problems involves a lot of money, we have realized that even the smallest devices in the desired place, even moving a sofa, changes the listener's space.Therefore, it is very important to use bass traps to complete the ambient acoustic panel and control the basses. This simple example of a bass trap in order to reduce costs and create simplicity for classical tastes with the same efficiency as bass traps, attracts and controls the problematic bass of sound producing sources at low frequencies.
This panel from the bass trap category is designed with the purpose of creating a connection between other bass trap acoustic panels in both horizontal and vertical directions of the wall corners.
installation location
The bass trap acoustic panel is usually installed in the corners of the wall. It is compatible with the combination of other (absorption) panels and has a favorable result.
Materials
Made of polyurethane foam with suitable density (monofoam) and fabric cover with wooden chassis for better sound absorption.
Product coloring
Blue, purple, dark gray, light gray, yellow, green, white, red, brown, black, orange
Applications: Control rooms, broadcast studios, live rooms, rehearsal rooms, home theater, conference rooms
Product color

It stands for High Fedility, which indicates "the fidelity and honesty of audio systems to play the clearest sound when transmitting audio pulses."

In general, devices that support hi-fi have low noise and distortion (sound distortion) and are able to transmit so-called colorless sounds with a fast frequency response.
Many sound engineers and composers believe that adjusting the volume to achieve the best possible state can take many forms.Everyone has a different listening taste that the sound engineer should try to get the best output from by standard adjustment and proper tuning of the sound. Many people think that the more expensive the system they use, the higher the sound quality will be. But the truth is that a true audiophile cares more about the details of the sound and how the audio signals are output than about its power. Those who listen to music professionally do not want to make a lot of noise and listen to music at high volumes and enjoy music at medium and low volumes.



Functionality: bass traps
Absorption Frequency: Low Frequencies
AW: 0.60
Noise Reduction Coefficient (NRC): 0.600
fire class : class F
Dimensions:600*330*330 mm
Scratch Resistance : NO
Washeable : NO
Materials : Foam
Installation Place: corner
Fire Class European (EN): Euroclass F
Absorption Frequency: Low Frequencies
Absorption coefficient (αw) = 0,55
Fixing Type: Glued
Acoustic foam tiles improve room absorbing at middle and high frequency sound waves.
Ideal for recording studio, vocal booth, home cinema, office etc.
Fixing material not included in delivery (options are for example, FlexiFit, StudioTape or acoustic adhesive)
Applications: Control rooms, broadcast studios, live rooms, rehearsal rooms, home theater, conference rooms
Special Weight(kg/m3):31.2
Penetration hardness index(N):105
Tensile strength(K/pa):88.6
Elongation to rupture(%): 142.5
Penetration hardness drop(%):30.88
ignition speed(mm/min):97.1
Scratch resistance(%):5
Washable: through the air sprayer
fire class: F
NRC Polyurethane foam : 0.6
The degree of reversibility(%):95
Compression resistance(%):99
Additional information
| | |
| --- | --- |
| Dimensions | 33 × 60 × 33 cm |
| Product weight | 0 |
| color | Black, Blue, Brown, Dark Gray, Green, Light Gray, Orange, Purple, Red, White, Yellow |
| material | felt fabric, MDF, Polyurethane Foam, WOOD |
| Product length | 60 cm |
| Product width | 33 cm |
| Thickness | 33 cm |
Tag your photos with this on Instagram.