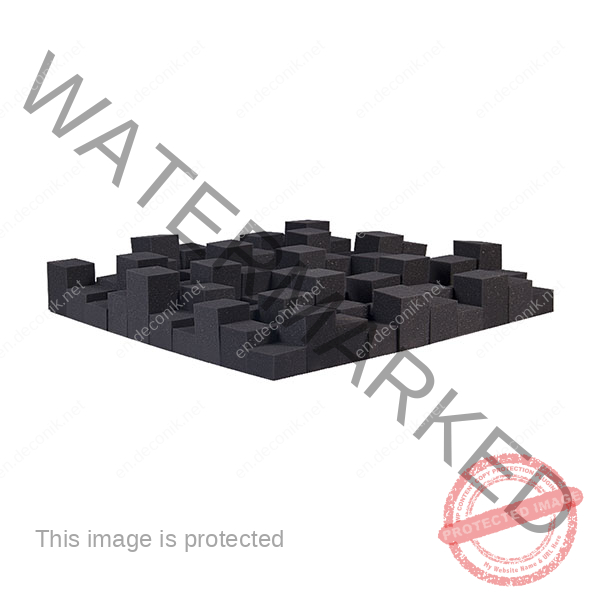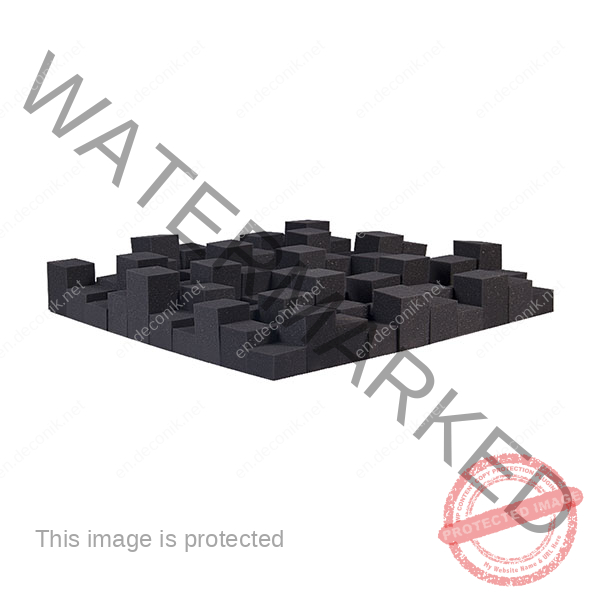 Multifuser DC2 Diffusion Panel
Multifuser DC2
Acoustic Absorber Set for Medium and High Frequencies
Super-functional two-dimensional acoustic panel with excellent efficiency, high absorption, and multiple emission on vertical and horizontal levels for environments with critical acoustic conditions, which is completely composed of calibrated acoustic mono-foam. It gets executed in medium and high frequencies and displays the sound remarkably transparent and clear. It should be added that this acoustic panel has a very effective absorption due to being complete composed of the mono-foam.
It is recommended to be executed in recording and broadcast studios, post-production studios, conference and teleconference rooms, lecture halls, distance (online) education rooms, public spaces, halls, performance spaces, etc.
Description
Installation site
One thing that should be noted about this acoustic panel is installation in both vertical and horizontal positions for the sound clarity in medium and high frequencies. It can also be used on walls and ceilings.
Ingredients
Like other high-density panels, acoustic mono-foam structure has caused a better sound absorption.
It stands for High Fedility, which indicates "the fidelity and honesty of audio systems to play the clearest sound when transmitting audio pulses."
In general, devices that support hi-fi have low noise and distortion (sound distortion) and are able to transmit so-called colorless sounds with a fast frequency response.
Many sound engineers and composers believe that adjusting the volume to achieve the best possible state can take many forms.Everyone has a different listening taste that the sound engineer should try to get the best output from by standard adjustment and proper tuning of the sound. Many people think that the more expensive the system they use, the higher the sound quality will be. But the truth is that a true audiophile cares more about the details of the sound and how the audio signals are output than about its power. Those who listen to music professionally do not want to make a lot of noise and listen to music at high volumes and enjoy music at medium and low volumes.



---
Special Weight(kg/m3):31.2
Penetration hardness index(N):105
Tensile strength(K/pa):88.6
Elongation to rupture(%): 142.5
Penetration hardness drop(%):30.88
ignition speed(mm/min):97.1
Scratch resistance(%):5
Washable: through the air sprayer
fire class: F
NRC Polyurethane foam : 0.6
The degree of reversibility(%):95
Compression resistance(%):99
Functionality: Absorption
Absorption Frequency: Medium Frequencies
Absorption range: 250 Hz to 2000 Hz
Acoustic Class: C
Absorption coefficient (αw) = 0,65
Dimensions: 500*500*93 mm
Scratch Resistance : NO
Washeable : NO
Materials : Foam
Installation Place: wall / Ceiling
Fixing Type: Glued
Acoustic foam tiles improve room absorbing at middle and high frequency sound waves.
Ideal for recording studio, vocal booth, home cinema, office etc.
Noise Reduction Coefficient (NRC): 0.6
Fixing material not included in delivery (options are for example, FlexiFit, StudioTape or acoustic adhesive)
Dimensions (one piece) L x W x H: 500 x 500 x 93 mm
Colour: Black
Additional information
| | |
| --- | --- |
| Weight | 0.970 kg |
| Dimensions | 50 × 50 × 9.3 cm |
| Product weight | 970 g |
| color | Black |
| material | MDF, Polyurethane Foam |
| Product length | 50 cm |
| Product width | 50 cm |
| Number of products in the box | 8 |
| Brand | deconik |
Tag your photos with this on Instagram.