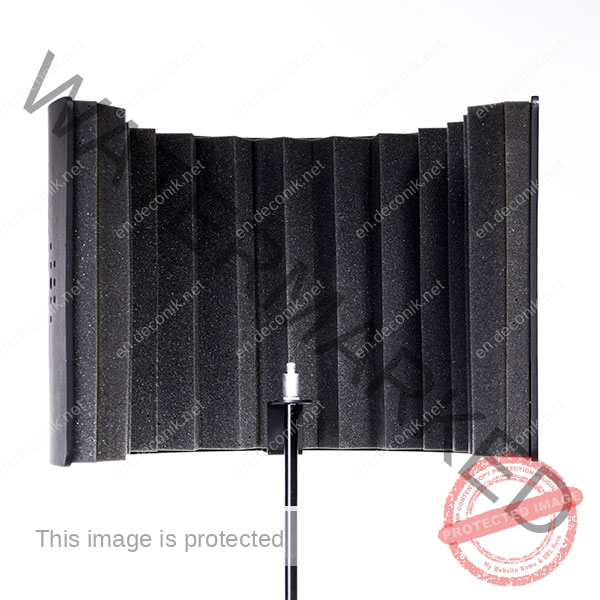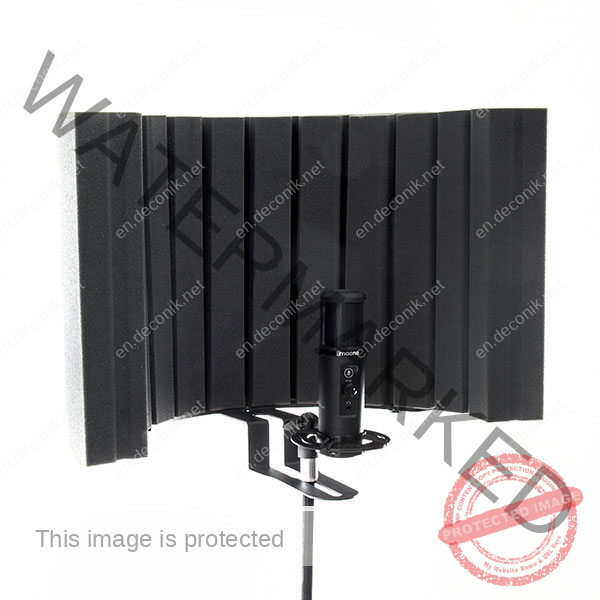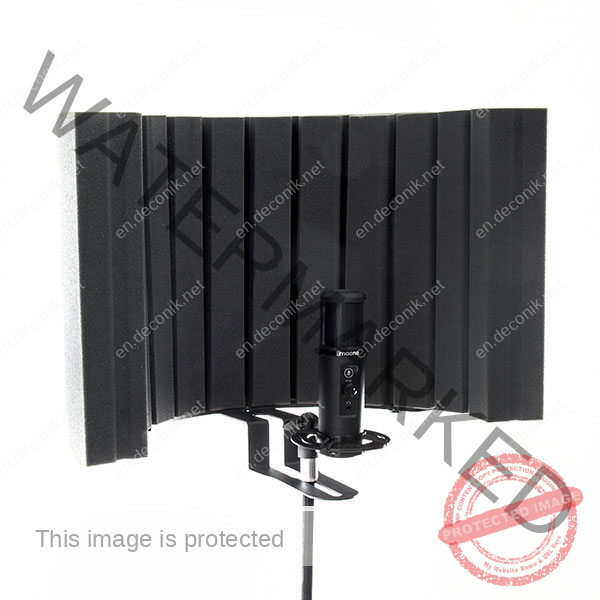 Flexi Screen lite Microphone Isolator Panel
Flexi Screen Lite- Deconik microphone isolator 
We have provided a high-density, portable, and easy-to-assemble Deconik microphone isolator called flexi screen lite. Among the characteristics of this panel can be the high consistency of polyurethane foam which helps to maximize the absorption productivity. By surrounding the microphone, this panel produces a clear sound in low and middle frequencies. This acoustic panel has a dual function. The inner surface absorbs the frequency and bass of the singer's voice, while the outer surface of the panel absorbs the reflections scattered around the room. The acoustic foam structure has a desired thickness and density. It has provided a common mechanism to enhance the absorption effect and to control the reflections by designing the holes.
This acoustic panel is suitable for a wide range of microphones. This panel can be assembled and used in less than 30 seconds. It can be used for all recording locations, studios, schools, conference halls, solo performances, etc.
Description
Installation
Method
This Deconik acoustic panel (microphone isolator) can be assembled very easily in the shortest time with the fasteners inside the microphone panel package.
Ingredients
Polyurethane foam with suitable thickness and density for absorption and lack of feedback
It stands for High Fedility, which indicates "the fidelity and honesty of audio systems to play the clearest sound when transmitting audio pulses."
In general, devices that support hi-fi have low noise and distortion (sound distortion) and are able to transmit so-called colorless sounds with a fast frequency response.
Many sound engineers and composers believe that adjusting the volume to achieve the best possible state can take many forms.Everyone has a different listening taste that the sound engineer should try to get the best output from by standard adjustment and proper tuning of the sound. Many people think that the more expensive the system they use, the higher the sound quality will be. But the truth is that a true audiophile cares more about the details of the sound and how the audio signals are output than about its power. Those who listen to music professionally do not want to make a lot of noise and listen to music at high volumes and enjoy music at medium and low volumes.



Functionality: Absorption
Absorption Frequency: Medium Frequencies
Absorption range: 300 Hz to 5000 Hz
Acoustic Class: C
Absorption coefficient (αw) = 0,65
Dimensions: 600*600*60 mm
Scratch Resistance : NO
Washeable : NO
Materials : Foam
Installation Place: wall / Ceiling
Fixing Type: Glued
Additional information
| | |
| --- | --- |
| Weight | 1.250 kg |
| Dimensions | 33 × 50 × 33 cm |
| Product weight | 1250 g |
| color | Black |
| material | FOMA, MONOFOMA |
| Product length | 33 cm |
| Product width | 50 cm |
| Thickness | 33 cm |
| Number of products in the box | 1 |
| Brand | deconik |
Tag your photos with this on Instagram.